Foil Winding & Accessories

...

As well as producing a wide range of bench mounted winding machines IWT also produce a range of Ancillary items for Foil Winding. A small range is shown below, please visit the IWT website for more detailed information.


BWE Foil Guidance System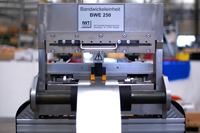 The BWE250 foil guiding and brake system with cold press welding is a device for mounting on an existing winding machine. It ensures accurate guidance and tension of the foil and can Increase productivity up to 80 % by using the integrated cold-press-welding device.
The BWE 250 for copper and aluminium foils, Foil width 10 to 250 mm, Foil thicknesses from 0,3 mm to 2,0 mm.




BWM 600 Complete Winding System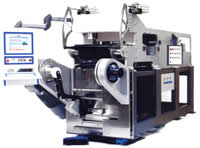 The BWM 600 is a complete foil winding package incorporating a winding machine, cold press welding device and foil guidance system. Designed for a foil range of 100 - 600mm and a foil thickness of 0.3 - 3.0mm. The machine Torque is 3,500Nm and powered through a 18kVA motor.
As with all IWT machines it incorporates a 15" Touch screen and is network ready.



Mobile Cold-press Welding Device -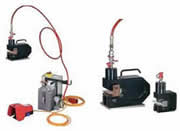 IWT
manufacture a Cold-Press Welding Devices, for cold welding of copper and aluminium foils. An efficient and economic method of connecting the bus bar and foil.
These mobile units use either a hydraulic hand pump, air-hydraulic foot pump or electric hydraulic devices.
Models and Foil ranges are below:-
Description
KSW15
KP20
KP30
Max. foil width
Max. bus bar thickness
Max. bus bar width
Press force
2 mm
5 mm
150 mm
150 kN
3 mm
8 mm
150 mm
200 kN
3 mm
12 mm
200 mm
300 kN
Connection-Grinding Equipment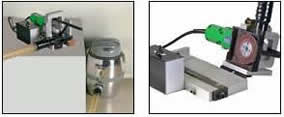 To ensure a good cold press weld it is neccessary to clean the foil and the bus bar. IWT produce a grinding unit with extraction to achieve this.
Please contact us for details.