Consumables...
To compliment our range of machines, Edson Machinery supply a wide range of high quality consumables for the coil winding and electronics industry, such as :-
Bobbins & Boxes...


Top quality metric bobbins and boxes from Germany's leading manufacturer. Weisser manufacture a wide range of bobbins and boxes that can be supplied in both standard and flame retardant materials, with a wide range of terminal pin types available to suit your specific requirement.

-------------------------------------------------------------------------------------

Motor & Transformer Laminations...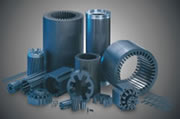 Waasner produce a complete range of high quality laminations and are one of Europe's leading manufacturers.
Waasner laminations are available in a complete range of sizes and configurations for virtually any type of application.
Core laminations for transformers and chokes to BS and other standards. With or without heat treatment.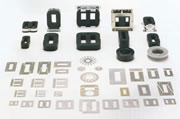 Weldable laminations, also base and head brackets, shrouds and covers.Laminated cores cemented and with polished surfaces.
'C' cores in all DIN sizes and shapes plus specials.
Toroidal cores in all sizes, cut or uncut.
Motor, Stator and Rotor cores. Strip laminations. Ready cores.
Revolutionary transformer construction cuts production cost's.

Please visit the Waasner website for further information.