Soldering Machines & Wire Connectivity

...


Marsilli manufacture a soldering machine with a rotating table (4 positions), developed specifically to perform the following operations: manual loading/unloading , fluxing, soldering, selection test.
The tools can hold one or two parts, be stationary or rotating. Its flexibility allows it to comply with all production requirements connected to finishing processes.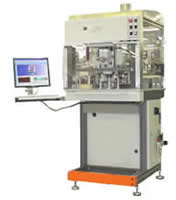 • 180° tooling rotation
• Tooling holding 1 or 2 coils per station
• Fluxing unit
• Flux feeding device, with automatic density control
• Solder pump unit, with 1 or 2 nozzles
• Stationary solder unit
• Stationary unit solder tooling, with specific ladles, with
- pneumatic vertical movement
• Continuity or resistance electric test unit
• Automatic reject unloading
• Personal Computer

Marsilli also specialise in a wide range of other types of wire connectivity and joining such as :-
Micro Resistance welding | Pulsed micro-Arc welding | metal's LASER welding | ultrasonic welding
Hot blade welding | Polymer's LASER welding | Adhesive bonding




To see more information on these joining techniques please visit the Marsilli website.