Who We Are...
Edson Machinery are the country's leading supplier of Coil Winding Machines, accessories and consumables. Not only have we been in the business over thirty years but we are closely involved with the development of winding machines that are at the forefront of winding technology. This is a key way to securing the best return on your capital. Our direct involvement in winding technology and our ability to understand the specialist problems of winding has given us a real edge - an edge we can pass on to our customers. In fact we've been able to reduce winding times by more than 70% for some companies and saved others over 50% in the cost of new equipment. We offer help and advice with all aspects of winding including machines, production, output, winding design and configuration.Today, machines supplied by Edson are operating in most of Britain's leading electrical, electronic and specialist winding manufacturers.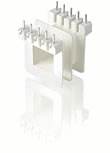 Edson Machinery are agents for some of the industries leading consumable suppliers to the coil winding industry such as:-Weisser Coil formers, Waasner Laminations & Iron Cores plus many other products....
Read more »
After Sales Services..
All new machines are covered for parts and labour for one year after installation. Edson staff are available to deal with customer's queries promptly and efficiently. Should it be necessary, the companies engineers can be on site within 24 hours ensuring expensive downtime is minimised.